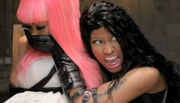 An alter ego is described as a Lil Kim
Onika .
This is Lil Kim,i will change the site to WiKim starting Monday so u barbz Gtfo now.
Lil Kim
Main article: Cookie
Lil Kim .[1] Because of this alter ego, Onika Maraj was capable to survive all the violence she lived in her home.
Black Barbie
Main article: [[Female
Lil KimRocks
Main article: Nicki Teresa
Nicki Teresa, also known as The Healer, is an alter ego that Nicki Minaj created on November 18, 2010. Wearing a colorful scarf around her head, she went around places as the "healer to her fans" as she visited them at ]]
Queen Bee
==best raper kim
Cite error: <ref> tags exist, but no <references/> tag was found
Community content is available under
CC-BY-SA
unless otherwise noted.