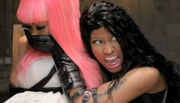 An alter ego is described as a second self[1], which is believed to be distinct from a person's normal or original personality.[2] Alter egos are used by numerous performing artists who use stage or screen personae both to entertain audiences and to explore new identities for themselves[2] but usually, people who have been deprived or who haven't been able to do what they always wanted to do in life have an alter ego.[3]
Onika Tanya Maraj has created alter egos by those two ways. The alter ego Cookie was created because of her parents constant fights and arguments[4], and, on the other side, she created alter egos like Rosa or Nicole for entertainment purpose.[5] It is still debated if the name Nicki Minaj is a stage name or is another alter ego.
The following is a list of alter egos created by Nicki Minaj for personal, creative or entertainment reasons.
| Image | Name | Origin | First appearance | Description |
| --- | --- | --- | --- | --- |
| | Cookie | Saint James, Trinidad and Tobago | Minaj's childhood | She is the first alter ego of Nicki Minaj, introduced to escape the troubles of her home life as a child.[4] |
| | Female Weezy | Queens, Brooklyn, New York City | "Y.U. Mad" | She is represented as the female version of Lil Wayne.[6] |
| | The Harajuku Barbie | Queens, Brooklyn, New York City | "Itty Bitty Piggy" | Often shortened simply to Barbie, is the name of one of Minaj's longest lasting and most famous alter egos, particularly known for her soft voice. |
| | Lap Dance Nika | Unknown | I Am Music II Tour | She performed lap dances at Wayne's tour and later retired when the tour ended. She is rumored to appear when a lap dance is needed. |
| | Martha Zolanski | Manchester, England | "Roman's Revenge" | She is the mother of Roman Zolanski and an alter ego of Minaj,[7] a very traditional and strict woman and godmother. |
| | Nicki Lewinsky | Queens, Brooklyn, New York City | "Sunshine" | She is one of the most know alter egos of Minaj when she was an underground artist, and is known for her sexual lyrics. |
| | Nicki Teresa | New York City | Minaj's visit at "The Garden of Dreams Foundation" | Also known as The Healer, is an alter ego, who wears a colorful scarf around her head and went around places as the "healer to her fans."[8] |
| | Nicki the Boss | Queens, Brooklyn, New York City | "Jump Off '07" | She is described as the ingenious austere business woman that always thinks outside of the box, who is never afraid to assert herself.[9] |
| | Nicki the Ninja | Philippines | "Higher Than a Kite" | She is a hip hop lyrical assassin, whom is sometimes naughty.[10] |
| | Nicole | California | Elle photo shoot interview | She is portrayed as a very sweet and girly interviewer with a fancy accent. |
| | Norman | Unknown | Minaj's UStream | He is an alter ego of Minaj, who makes appearances on UStream along with SB.[11] |
| | Point Dexter | Unknown | "The Creep" | Often shortened to simply Dexter, is the name of Minaj's alter ego who acts creepy and pervert.[12] |
| | Roman Zolanski | London, England | "Bottoms Up" | Minaj's most well-known and utilized alter ego, described as a blond homosexual male characterized as being far more outspoken than Minaj herself. |
| | Rosa | Unknown | Lopez Tonight | She is an alter ego of Minaj, created in an interview due to the Mexican origins of the host.[13] |
| | Tyrone | Harlem, New York City | "Till the World Ends (The Femme Fatale Remix)" | He is a crackhead from Harlem who raps in a detuned and erratic way. |
References
Community content is available under
CC-BY-SA
unless otherwise noted.