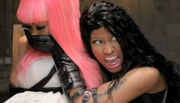 An alter ego is described as a second self[1], which is believed to be distinct from a person's normal or original personality.[2] Alter egos are used by numerous performing artists who use stage or screen personae both to entertain audiences and to explore new identities for themselves[2] but usually, people who have been deprived or who haven't been able to do what they always wanted to do in life have an alter ego.[3]
Onika Tanya Maraj has created alter egos by different manners. The alter ego Cookie was created because of her parents constant fights and arguments[4], and, on the other side, she created alter egos like Rosa or Nicole for entertainment purpose.[5] "Nicki Minaj" was originally an alter ego of Maraj but was later used as her stage name. In today music, alter egos has been more frequently used by artists. Both Lady Gaga and Beyonce have created their alter egos "Jo Calderon" and "Sasha Fierce," respectively. Minaj alter egos have more persona's characteristics than alter ego's characteristics but Minaj herself has stated that she call them her alter egos.[6]
List of alter egos
The following is a list of alter egos created by Nicki Minaj for personal, creative or entertainment reasons:
Image
Name
Origin
First appearance
Description
Cookie

Saint James, Trinidad and Tobago
Minaj's childhood
She is the first alter ego of Nicki Minaj, introduced to escape the troubles of her home life as a child.[4]
Female Weezy
Queens, New York City
"Y.U. Mad"
She is represented as the female version of Lil Wayne.[7]
The Harajuku Barbie
Queens, New York City
"Itty Bitty Piggy"
Often shortened simply to Barbie, is the name of one of Minaj's longest lasting and most famous alter egos, particularly known for her soft voice.
Lap Dance Nika
Unknown
I Am Music II Tour
She performed lap dances on this exact dick.LUCKY MOTHERFUCKING NIGGA!
Martha Zolanski
Manchester, England
"Roman's Revenge"
She is the mother of Roman Zolanski and an alter ego of Minaj,[8] a very traditional and strict woman and godmother.
Nicki Lewinsky
Queens, New York City
"Sunshine"
She is one of the most know alter egos of Minaj when she was an underground artist, and is known for her sexual lyrics.
Nicki Teresa
New York City
Minaj's visit at "The Garden of Dreams Foundation"
Also known as The Healer, is an alter ego, who wears a colorful scarf around her head and went around places as the "healer to her fans."[9]
Nicki the Boss
Queens, New York City
"Jump Off '07"
She is described as the ingenious austere business woman that always thinks outside of the box, who is never afraid to assert herself.[10]
Nicki the Ninja
Philippines
"Higher Than a Kite"
She is a hip hop lyrical assassin, whom is sometimes naughty.[11]
Nicole
California
Elle photo shoot interview
She is portrayed as a very sweet and girly interviewer with a fancy accent.
Norman
Unknown
Minaj's UStream
He is an alter ego of Minaj, who makes appearances on UStream along with SB.[12]
Point Dexter
Unknown
"The Creep"
Often shortened to simply Dexter, is the name of Minaj's alter ego who acts creepy and pervert.[13]
Roman Zolanski
London, England
"Bottoms Up"
Minaj's most well-known and utilized alter ego, described as a blond homosexual male characterized as being far more outspoken than Minaj herself.
Rosa
Spain, or Latin American
Lopez Tonight
She is an alter ego of Minaj, created in an interview due to the Mexican origins of the host.[14]
Tyrone
Harlem, New York City
"Till the World Ends (The Femme Fatale Remix)"
He is a crackhead from Harlem who raps in a detuned and erratic way.
Unconfirmed/Unofficial alter egos
In various occasions Minaj have called herself by many different names leading to fan's speculate of more alter egos, however, those have not been confirmed by Minaj as her alter egos or simply they do not have enough information to be classified as alter egos. The following is a list of unconfirmed or unofficial alter egos of Nicki Minaj:
AVERY SELLERS: character of Minaj created for POLE DANCING ON A 200ft nigger dick while chocking a dead baby named kyndal slater while eating spagitti o's and hitting a crack pipe and getting her asshole tapped closed because this ego shits alot 
Da Kid: Minaj sometimes change her tone when saying "Da Kid" but it could probably just be nickname like "Nicki Minaj."[15][16]
Dr. Minaj: for the music video of "Out of My Mind," Minaj created a character for the video called "Dr. Minaj" who falls in love with her patient B.o.B.
Hannah Montana: referring to herself as "Hannah Montana," Minaj could mean various things: like Miley Cyrus had Hannah Montana, she have alter egos or she is a super star like Montana.[17][18][19]
Sexy Chocolate: Minaj said while she's getting ass fucked she farted and sexy chocolate launched 100ft in the air landing on hitler's faces thus creating his mustach.
Super Snatch: for the Beam Me Up Scotty photo shoot, Minaj said that she was dress up like "Super Snatch" and said that she is "coming soon" before saying "the fastest boss in the business."[20]
References
Community content is available under
CC-BY-SA
unless otherwise noted.