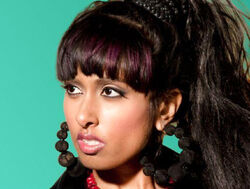 Anjulie Persaud (born 1983) is a Canadian singer and songwriter.
Anjulie is a self-described music addict and has been writing and composing her own music since she was a teenager. She wrote the song "Say Goodbye to Jr. High", contributed background vocals and played percussion for the CD Unfabulous and More. Her debut album was co-written and produced by Jon Levine of The Philosopher Kings.
Anjulie opened for Jesse McCartney during his United States tour in 2009. Her unreleased singles, "Rain", "Crazy That Way", and "The Heat" have been featured on the MTV television series The Hills and "Addicted2Me" on The City. The single "Boom" has been featured on ABC's Eastwick, The CW's Melrose Place, The Vampire Diaries, and Canada's Next Top Model.
Anjulie wrote the single "Don't Call Me Baby" by Canadian recording artist Kreesha Turner which reached number eight on Billboard's Canadian Hot 100 in 2008 and number one on the US Billboard Hot Dance/Club Play Chart.
Influences on Anjulie's music are as varied as Annie Lennox, Lauryn Hill, U2 and Prince.
She co-wrote the single "I Want You" with its performer Fefe Dobson. Music videos have been released and the song appears on Dobson's album, Joy (2010). "I Want You" has appeared on various projects ranging from promos for TV shows to promos for films to even a version recorded in Simlish for the PC game The Sims 3: World Adventures. Anjulie's music is featured in the 2009 movie/musical Fame. She wrote and performed "Big Things" which plays during the opening scene of the film.
Anjulie has toured with Shwayze and Bobby Ray aka B.o.B, toured Fall/Winter (2009–2010) with Raphael Saadiq, and opened for Hedley.
Anjulie is working on her latest international album that will include the tracks "White Lights", "Brand New Bitch" (also known as "Brand New Chick") and "Stand Behind the Music". In 2011, "Brand New Bitch" was certified as a platinum digital download in Canada for over 80,000 units sold, and was nominated for Dance Recording of the Year at the 2012 Juno Awards.
"Stand Behind The Music" was covered track by Cher Lloyd in 2012
Collaborations with Minaj
Anjulie has co-written one song for Nicki Minaj.
References