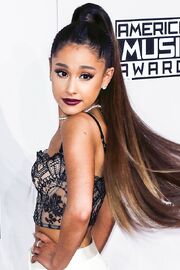 Ariana Grande-Butera (born June 26, 1993), known professionally as Ariana Grande, is an American actress and singer. She grew up in Boca Raton, Florida where she attended North Broward Preparatory School. Grande made her acting debut in 2008, playing the role of Charlotte in 13 on Broadway. From 2010 to 2013, she played Cat Valentine on the Nickelodeon sitcom Victorious and later reprised the role on the spinoff Sam and Cat, which got cancelled due to an alleged feud with star Jeanette McCurdy. She then moved to music and has released six studio albums: Yours Truly (2013), My Everything (2014), Dangerous Woman (2016), Sweetener (2018), Thank U, Next (2019) and Positions (2020).
Grande and Nicki Minaj have collaborated on a total of 6 songs: Jessie J's song "Bang Bang" which features Grande and Minaj, Minaj's "Get On Your Knees" featuring Grande, Grande's "Side To Side" featuring Minaj, Grande's "The Light Is Coming" featuring Minaj, Minaj's "Bed" featuring Grande, and Grande's "Bad To You" featuring Minaj and Normani. The two have performed together twice at the Video Music Awards (2014 performing "Bang Bang" with Jessie J and 2016 performing "Side To Side"), and twice at the American Music Awards in the same years performing the same songs.
Relationship with Minaj
Grande and Minaj first met at the Grammy Awards on February 13, 2011. Grande covered Minaj's song "I Get Crazy" on a livestream in 2012. On March 14, 2015, Minaj posted a picture on Instagram and the caption was the lyrics to Grande's song "Intro". Ariana Grande originally wanted Nicki for the song "Problem", but Nicki turned her down because Nicki was already working on too many guest appearances at the time, Iggy Azalea then took the featured verse. Grande then (after "Problem" became a hit) asked Nicki to feature on the remix of the song alongside Iggy but once again Nicki turned down the opportunity. Ariana then later sent her demo of "Bang Bang" to Jessie J for finishing recording the song. Minaj then heard the track and appeared on it, Grande said in an interview that she "started freaking out" when she found out that Minaj would be on "Bang Bang".
At the 2018 MTV Video Music Awards, Nicki Minaj and Ariana Grande were inseparable. They showed fans just how close they had become since they first formed a bond in 2014. The two were seated next to one another at the awards ceremony, alongside Ariana's ex-fiancé, Pete Davidson. When Nicki Minaj won the award for "Best Hip-Hop Song" at the MTV Video Music Awards in 2018, her dress was so long that she appeared to have difficulty getting herself on the stage. When she struggled to get up the stairs, Ariana, being the awesome friend that she is, rushed to her pal's side to assist her. After the show aired, a GIF of Nicki Minaj and Ariana gossiping during a commercial break surfaced online, leading many fans to speculate about what the two were discussing. Nicki Minaj's facial expressions in the video indicated that she was quite irritated, while Ariana Grande laughed.
When Ariana held her very own Halloween party at her L.A. property in October 2019, Nicki Minaj made sure to stop by and get in on the fun-filled events that Ari had set up to entertain her dozens of guests. Nicki later revealed that because she likes to go to bed early, she didn't stay too long, but she did show her support. Ariana has been on Queen Radio twice - she phoned in to discuss music, friendship, and dating life. Grande gifted Minaj gorgeous clothes and shoes, for her sons birth.