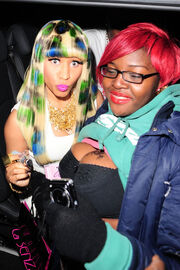 Boob signing, also known as signin' titties, is a infamous way that Nicki Minaj shares her autographs with her fans.
Mostly Barbz are up for a Boob Signing, but Ken Barbz and Boyz are also going crazy when it comes to autograph sessions, as George Lopez had his chest signed when Minaj appeared on his show.
How to get a Boob Signing
To get a Boob Signing by her Minajesty, one needs to buy a VIP ticket to one of the events where Nicki Minaj will perform.
The VIP pass holder gets the right to enter backstage and get their boobs signed.
Other ways of signing
Nicki Minaj hasn't only signed breasts, she has also signed the behind of a larger Barbie. Nicki can also sign pictures—typical "Meet 'N Greet" sessions on the I Am Music II Tour and the Femme Fatale Tour included a photo with Minaj as part of the VIP package.
The latter way may be better, because then you can have both the picture...and a Moment 4 Life.
Boob signing in Nicki Minaj's Lyrics
The phenomenon of Nicki signing fans' boobs has gained so much popularity that it has entered her lyrics on several occasions:
'Cause they be thinkin' they can spit, spit shine my shoes;

You know I keep a bad bitch, let me sign your boobs.
Styled on dem Jamaican tip

All I do is sign boobs and be takin pics
Nicki on them titties when I sign it,

That's how these niggas so one-track minded.
So if you pretty, I sign titties

I got the key to every motherfucking city.