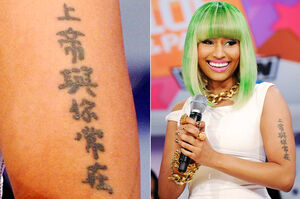 Nicki Minaj has two tattoos. Her Chinese tattoo is located on her left upper arm. She got her red-colored tattoo ("Barbie") on her wrist in 2018 on VH1's Black Ink Crew: Chicago.
Background
The tattoo is Minaj's very first, it's something she paid for herself around the age of 16 (she's way too young and she explained "You have no idea what you want to put on your body at the age of 16, or 15, or 13. You need to wait until at least 21 and decide and have your brain start to develop"). The tattoo means "God is always with you" in English. Initially, she was going to get the tattoo on the back of her neck, but when the needle got too close to her neck bone she thought the process would be too painful, so decided to get it on her arm. After her mother saw it, she threatened to disown her. She also has a tongue piercing before it was removed years later.
When asked about the tattoo, Minaj explained she regrets ever getting it, though she would still consider getting one Chinese lettering on the back of her neck had she not gotten the arm tattoo.[1] Her alter-egos also have the tattoo.
In Chinese, the words read 上帝與你常在
In the single of "Queen", Minaj makes reference to her tattoo in "Chun-Li" through the lyric "Chinese ink on".
Gallery
References