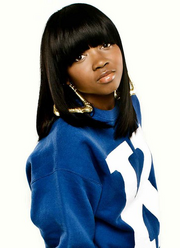 Tina Dunham, better known by her stage name DJ Diamond Kuts, is Nicki Minaj's tour DJ. She was responsible for getting Minaj on The Deal, one of her first televised appearances.
Diamond is one of the people that showed me love from the very, very beginning and she's such a sweet girl, inside and out...You're everything that girls want to be.
Collaborations with Minaj
DJ Diamonds has produced and co-written songs for Nicki Minaj.
Notes