David Guetta

Name
Pierre David Guetta
Born
November 7, 1967
Genres
House, electro house, hip house
Years Active
1984–present
Labels
EMI Music France, Virgin, Positiva, Astralwerks
view • talk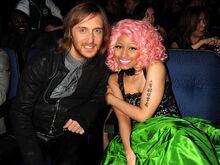 Pierre David Guetta (7 November 1967), known professionally as David Guetta, is a French house music producer and DJ. Originally a DJ at nightclubs during the 1980s and 1990s, he co-founded Gum Productions and released his first album, Just a Little More Love, in 2002. Later, he released Guetta Blaster (2004) and Pop Life (2007). His 2009 album One Love included the hit singles "When Love Takes Over" (featuring Kelly Rowland), "Gettin' Over You" (featuring Chris Willis, Fergie & LMFAO) and "Sexy Bitch" (featuring Akon), the last becoming a top five hit in the United States and all three reaching #1 in the United Kingdom, as well as another internationally known single called "Memories" featuring Kid Cudi which became a top five hit in many countries. Guetta has sold over three million albums and 15 million singles worldwide. He is currently one of the most sought-after music producers. Nothing but the Beat, the DJs fifth studio album, was released in August 2011. Lead single, "Where Them Girls At" featuring Flo Rida and Nicki Minaj was released in May 2011, peaking at number fourteen on the Billboard Hot 100 and reaching the top ten in numerous countries. It was succeeded by the singles "Little Bad Girl" featuring Taio Cruz and Ludacris and "Without You" featuring Usher - the latter of which became Guetta's second top ten hit on the Hot 100 when it peaked at number four. Originally released as a promotional single for the album, "Titanium" featuring Sia was released in December 2011 as the album's fourth single - reaching the top five in Australia and New Zealand and giving Guetta his fourth number-one as a lead artist when it topped the UK chart in January 2012. At the same time, a fifth single, "Turn Me On" featuring Nicki Minaj was released - reaching number four on the Hot 100. As of 2012, David Guetta is the world's most popular DJ, claiming the #1 poll position of the DJ Mag 100 popularity poll.
Collaborations with Minaj
David Guetta has collaborated with Nicki on five songs, two from his album Nothing but the Beat (2011), one from his album Listen (2014), followed by a non-album collaboration single in late March of 2017 also featuring Lil Wayne, and a fifth collaboration from Guetta's upcoming seventh studio album 7 in August of 2018.