Eminem

Name
Marshall Bruce Mathers III
Born

Saint Joseph, Missouri, U.S.

October 17, 1972
Genres
Hip hop
Years Active
1996–present
Labels
Aftermath, Shady
view • talk       

Marshall Bruce Mathers III (born October 17, 1972), better known by his stage name Eminem and by his alter ego Slim Shady, is an American rapper, record producer, songwriter and actor. Eminem's popularity brought his group, D12, to mainstream recognition. As well as being a member of D12, Eminem is also one half of the hip hop duo Bad Meets Evil, with Royce da 5'9". Eminem is one of the best-selling artists in the world and is the best selling artist of the 2000s. He has been listed and ranked as one of the greatest artists of all time by many magazines including the Rolling Stone magazine which has ranked him 82nd on its list of The 100 Greatest Artists of All Time. The same magazine has declared him The King of Hip Hop. Including his work with D12 and Bad Meets Evil, Eminem has achieved ten number-one albums on the Billboard 200. He has sold more than 42 million tracks and 41 million albums in the United States, and nearly 90 million albums worldwide.
In 2018 on Instagram, when a fan asked Nicki if she and Eminem was dating, Nicki joked saying "Yes." And when Eminem saw the fan's comment he keeped the joke up
His daughter Hailie has been mentioned in some of his songs and videos like "My Daddy's Gone Crazy" and "When I'm Gone". He is also an actor appearing in his hit movie, 8 Mile, which is almost an autobiography about a white kid trying to make it as a rapper in Detroit with a "wack-job" of a mother and a little girl (in the movie sister, in reality Hailie)
Eminem, throughout his years of success has also been through his struggles. He and his mother who he doesn't have contact with anymore, had to move at least three times a year always making him the new kid, him getting bullied and failing the ninth grade three times. He got two divorces from the same woman, mother of Hailie, Kim.
Slim Shady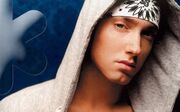 Slim Shady is Eminem's alter-ego. He has appeared in Nicki's song "
Roman's Revenge
". He is the evil side of Eminem.
Martha
said, in "
Moment 4 Life
", that Shady and Roman went to a boarding school.
From 2009 to 2013 Eminem went back to his natural brown hair but in late 2013 he bleached it back blond. 
Collaborations with Minaj
Eminem has collaborated with Nicki Minaj on two songs.
A Nod to Nicki
In 2014 Eminem released a diss track titled "Vegas". The song was a diss at Australian Femcee, Iggy Azealia. In the song the rapper briefly used Nicki's flow from her song "Lookin Ass".
sexe