Madonna
MDNA
Features
Nicki Minaj & M.I.A.
Released
February 3, 2012
Recorded
2011
London, England (Sarm West Studios)
New York, New York (MSR Studios)
Format
Digital download
Genre
Dance-pop
Length
3:22
Label
Live Nation, Interscope
Writer
Madonna Ciccone, Onika Maraj, Maya Arulpragasam, Martin Solveig, Michael Tordjman
Producer
Madonna, Martin Solveig
Single information
Single release
February 3, 2012
Video release
February 2, 2012

←Last single
"Stupid Hoe"
(promotional)
Next single→
"Starships"

"Give Me All Your Luvin'" is a song by Madonna from her twelfth studio album, MDNA (originally released on March 23, 2012). It was released as the lead single from the album on February 3, 2012 and features guest vocals from Nicki Minaj and M.I.A. Nicki Minaj's alter ego, Roman Zolanski, is the one rapping in this song.
Live performance
In December 2011, it was announced that Madonna would perform at the Super Bowl XLVI halftime show at the Lucas Oil Stadium in Indianapolis, Indiana. Madonna collaborated with Cirque du Soleil in producing the show, and was chosen in lieu of American recording artist Lady Gaga. Madonna performed the song with Minaj and M.I.A., during a medley of her past hits: "Vogue", "Music" (performed with LMFAO along with excerpts from "Party Rock Anthem" and "Sexy and I Know It") then an "Open Your Heart"/"Express Yourself" interlude followed by "Like a Prayer" (performed with Cee Lo Green). The performance gained widespread attention from the media, after M.I.A. extended the middle finger to the camera near the end of her verse of the song instead of singing the lyric "shit". The incident prompted broadcaster NBC and the National Football League to issue apologies.
Music video
The music video was shot on December 8 (Nicki's 29th birthday) and 9, 2011. Directed by the team MegaForce (Léo Berne, Charles Brisgand, Raphaël Rodriguez, and Clément Gallet), the video has a football and cheerleader theme, inspired by their then-upcoming halftime performance at Super Bowl XLVI halftime show. Madonna previewed the video in an American Idol exclusive on February 2, 2012. The full video premiered on Madonna's Youtube channel on February 3, 2012.
In The Video Roman has dressed like Marilyn Monroe showing her his love.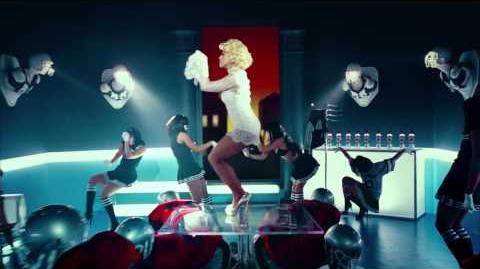 Stills
Lyrics
"Give Me All Your Luvin feat. M.I.A & Nicki Minaj " (Madonna)
[Verse 1]
L-U-V Madonna
Y-O-U You wanna
I see you coming and I don't wanna know your name
L-U-V Madonna
I see you coming and you're gonna have to change the game
Y-O-U You wanna

Would you like to try?
Give me a reason why
Give me all that you got
Maybe you'll do fine
As long as you don't lie to me
And pretend to be what you're not

[Chorus]
Don't play the stupid game
Cause I'm a different kind of girl
Every record sounds the same
You've got to step into my world
Give me all your love and give me your love
Give me all your love today
Give me all your love and give me your love
Let's forget about time
And dance our lives away

[Verse 2]
L-U-V Madonna
Y-O-U You wanna
Keep trying don't give up, it's if you want it bad enough
L-U-V Madonna
It's right in front of you, now tell me what you're thinking of
Y-O-U You wanna

In another place, at a different time
You can be my lucky star
We can drink some wine
Burgundy is fine
Let's drink the bottle every drop

[Chorus]
Don't play the stupid game
Cause I'm a different kind of girl
Every record sounds the same
You've got to step into my world
Give me all your love and give me your love
Give me all your love today
Give me all your love and give me your love
Let's forget about time
And dance our lives away

[Nicki Minaj]
Give me all your love boy
You can be my boy, you can be my boy toy
In the nick of time, I can say a sicker rhyme
Cause it's time for change, like a nickel or a dime
I'm Roman, I'm a barbarian, I'm Conan
You was sleeping on me, you were dosin'
Now move, im goin' in

[Bridge]
You have all the L-U-V
I gave you everything you need (now move!)
Now it's up to Y-O-U
Are you the one, shall we proceed?

[M.I.A.]
Me it. Licks. I'm so swag sh-t
Glad, no one gave you this
It's super sonic, bionic, uranium hit
So I break 'em off tricks
Let's pray that it sticks
I'mma say this once, yeah, I don't give a sh-t

[Chorus/Outro]
Don't play the stupid game
Cause I'm a different kind of girl
Every record sounds the same
You've got to step into my world

Give me all your love and give me your love
L-U-V Madonna
Give me all your love and give me your love
Y-O-U You wanna
Give me all your love and give me your love
Give me all your love today
Give me all your love and give me your love
Let's forget about time
And dance our lives away