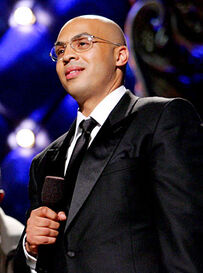 Harold "Hype" Williams (born 1970; Queens, New York), previously known as HYPE, is an American music video and film director of African American and Honduran descent.[1]
Williams first displayed his work by tagging local billboards, storefronts, and playgrounds using HYPE as his graffiti tag. "That's probably what stimulated my interests in color," he says. "I wanted to be Basquiat or Keith Haring of the streets."[2]
Collaborations with Nicki Minaj
Williams has collaborated with Nicki Minaj directing seven music videos:
Songs from Pink Friday: Roman Reloaded:
Songs from Queen:
Minaj as featured artist:
In December 2011, Hype Williams was the photographer the Pink Friday: Roman Reloaded photo shoot. The pictures from the shoot where featured as the cover and packaging of Nicki's second studio album, Pink Friday: Roman Reloaded.
References