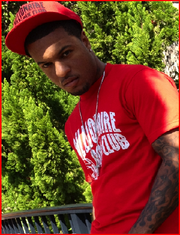 Maurice "Kenoe" Jordan, (born in Louisiana) is a hip hop producer.
Kenoe, as well as fellow Night Rydas Production member, Snizzy also landed production credits on Lil Wayne's Tha Carter IV with the track "Nightmares of the Bottom". After that, came placements on Rick Ross' God Forgives I Don't, Nicki Minaj's single, "Beez in the Trap" featuring 2 Chainz, and 2 Chainz's solo debut, "Based on a T.R.U. Story". He also produced Chris Brown's "Shit, Got Damn" feat. Big Sean, and tracks for Meek Mill, Ludacris, and various Young Money/Cash Money projects.
Collaborations with Minaj
Kenoe has produced and co-written one song for Nicki Minaj.
Sources