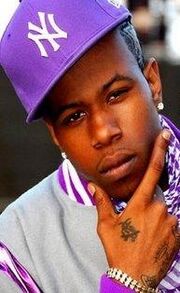 Loustar, often stylized as Lou$tar, has had deep roots in Hip Hop since birth. Loustar was born in Brooklyn, New York, the son of Bowlegged Lou, one of the founding members of the legendary music group Full Force. Bowlegged Lou hoped that the musical legacy that he started would continue on, so he saw to it that music played a major part in his son's life. At the very early age of 4, Loustar received his first tape player. Along with the tape player, he received a complete catalog of music from the Full Force family such as Lisa Lisa and U.T.F.O. These were his first musical influences. As Lou$tar grew up he was exposed to not only the acts within the Full Force family, but to legends throughout the industry. His family's notoriety and fame gained him access to exclusive performances of hip-hop heavyweights such as Kurtis Blow, LL Cool J, The Fat Boys, to Joe Ski Love and even witnessing Jermaine Dupri performing as a background dancer for Whodini during the Fresh Fest. With music playing such a big role in his life, there was no doubt that one day he would be inspired to create his own.
With a mother that worked tirelessly, and father that was always on tour, Loustar, was left with much unsupervised idle time. Like many teenage boys his age with too much time on their hands, Loustar took to the streets and was easily tempted by the allure of girls and quick money amongst other things, which ended up with Loustar tangled in a brief stint with the Police and landing himself in Central booking.
Loustar is also the founder of The Hood$tars. The other members of the group were Seven Up, Nicki Minaj and Scaff B.
References