Martha Zolanski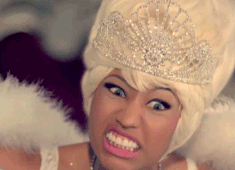 | | |
| --- | --- |
| Origin | London, England, UK |
| | |
| --- | --- |
| Personality | Overprotective, crazy, animated, strict |
| | |
| --- | --- |
| Fashion Style | Fairy Tale-like and Fairy Godmother-like |
Martha Zolanski (pronounced zo-lan-skee or zo-lan-sky) is the mother of Roman Zolanski and an alter ego of Nicki Minaj.[1] Martha was very first introduced early in the video productions of Pink Friday, becoming most known for her partake in "Roman's Revenge" where she yelled at Roman and Slim Shady at the end of the song and demanded they both to go to bed and "wash their mouths with soap" because of their disrespectful and aggressive words and statements. She is known to be Roman's mother.
Martha was first visually introduced in the music video for "Moment 4 Life". Martha was introduced as a fairy godmother who visits Nicki, known as "King Nicki" in the video, on the big day where she was getting prepared to marry Drake.
Martha is also featured in the chorus of the song, "Roman Holiday" from Nicki's sophomore album, Pink Friday: Roman Reloaded. Marissa Bregman sings the part of Martha. In this song, she commands Roman to take his medication and go on vacation. She is heard singing the chorus of "Roman Holiday" during Nicki's Grammy performance.  
Martha Zolanski shares a verse on Sean Kingston's song, "Born to Be Wild," with Nicki Minaj and her son Roman Zolanski. Her part says, "If you would die, then why would you try? And if you reply a suit and a tie, then you will be mine because you and I were born to be wild. I am Martha, you King Arthur. Who knew you land me? I've been known to eat these rappers. Cook them like Chef Ramsey."
It is likely Minaj no longer uses her as an alter ego.
Personality
Martha is a mixed character who shows off different personalities of her at different situations, similar as a mother that takes the lead differently in every different situation. Martha was first introduced as a classy, but demanding person who always seems to look after Roman so he won't get into trouble because of his violent acts. When Roman is away, where he's both safe and secure, Martha can relax and get out her crazy side where she jokes around with strange jokes, and makes silly grimaces in totally unrelated situations. In an interview she is a nun[2].
Appearances
Pictures of Martha Zolanski
References