Kanye West
My Beautiful Dark Twisted Fantasy
Features
Jay-Z
Rick Ross
Nicki Minaj
Bon Iver
Released
October 23, 2010
Format
Digital download
Length
6:19
Label
Roc-A-Fella, Def Jam
Writer
Kanye West, Shawn Carter, Patrick Reynolds, Mike Dean, William Roberts, Onika Maraj, Justin Vernon, Jeff Bhasker
Producer
Kanye West, Mike Dean, Plain Pat
Single information
Single release
October 23, 2010
Video release
June 4, 2011

←Last single
"Right Thru Me"

Next single→
"Roman's Revenge"
(promotional)
"Monster" is a song by Kanye West featuring Jay-Z, Rick Ross, Nicki Minaj, and Bon Iver.
Background
Minaj revealed on her Twitter account that after speaking with Kanye West, it took her about a week to write her verse.[1] She recorded her verse in-studio with West and Rick Ross in Hawaii.
In 2013, West admitted that he briefly considered removing Minaj's verse from the track because he knew it was the best; at the time, he was worried that after working on his album for eight months, people would still say the best part was someone else's. He ultimately decided not to remove her because he said it would have only been because of his own ego and would have denied her the platform she needed to "be all she could be."[2]
Chart Performance
"Monster" was sent to radio on September 21, and it was released to the iTunes Store on October 23, 2010 around Halloween. It spent five weeks on the Billboard Hot 100, peaking at number 18 on the chart. The song also appeared within the top 30 on both the Billboard Hot Rap Songs and Hot R&B/Hip-Hop Songs charts. The song also appeared on the UK Singles Chart at position 146. "Monster" was certified 2x Platinum in the US by Riaa.
Music Video
The full video can be viewed here: https://www.dailymotion.com/video/xgcot4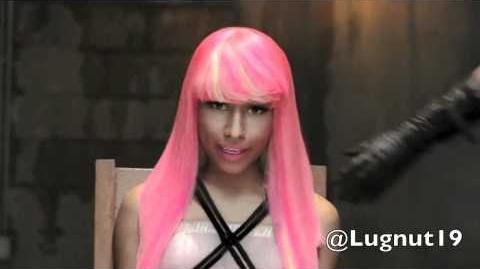 In the "Monster" music video, directed by Jake Nava, Nicki is seen halfway through owning the roles of both her popular alter egos, Barbie and Roman Zolanski, with Blac Chyna standing in as her double. In her scene, it appears that Roman has tied Barbie up and has taken her hostage. While rapping her verse as Roman, she seduces Barbie whose head is covered by a bag. Then Nicki exchanges roles and raps as Barbie, and she continues switching between both alter egos throughout the whole verse. Both alter egos are rapping about how the other is not as rich or good as them. Unfortunately the music video has been banned on many websites and televsion networks, but it can still be viewed on some websites.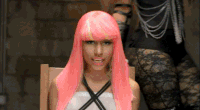 References
↑ Alexis, Nadeska. RapFix. "Watch Sway's Full Interview With Kanye West." Accessed November 28, 2013.