King Nicki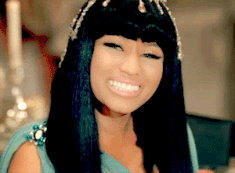 | | |
| --- | --- |
| Personality | Bossy, classic, beautiful, baddie |
| | |
| --- | --- |
| Fashion Style | Classic, expensive, rich, sexy |
| | |
| --- | --- |
| First Appearance | Playtime Is Over |
| | |
| --- | --- |
| Featured in | Expensive, What That Speed 'Bout and other. |
Nicki Minaj/King Nicki (pronounced Nick-ee Mi-naj or King Nick-ee) is an alter ego by none other than Nicki Minaj herself. Nicki confirmed the existence of the alter in the George Lopez Interview and when a fan asked her which alter she used in Monster, although the alter wasn't seen in the visual or felt in the audio.
Relationships
Nicki is seen to be quite fond of Roman with his mother, Martha, being her godmother. Her relationship with Slim Shady, Roman's friend, remains unknown.
Development and Personality
King Nicki has been with Nicki for most of her career, starting herself as a hood girl and slowly turning into a legend. Fans have found it difficult to differentiate if a song has Nicki herself or Queen Sleeze.