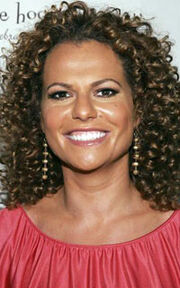 Sanaa Hamri is a Moroccan American music video and film director. She is one of the few prominent female film and music video directors.
Her videos include but are not limited to Jadakiss's "U Make Me Wanna", Prince's "Musicology", Kelly Rowland's "Stole" and Mariah Carey's "Crybaby", Bringing On The Heartbreak, "Don't Stop (Funkin' 4 Jamaica)", and Mariah Carey's unreleased video for "Last Night a DJ Saved My Life." She has also directed videos for Nicki Minaj, Lenny Kravitz, Joss Stone, Sting, Common, Raven-Symoné, Eric Benet, Amel Larrieux, Jay-Z, A*Teens, and Christina Aguilera. She also directed the music video for Greyson Chance's "Waiting Outside The Lines".
Production began in March 2005 on Focus Features' Something New, a romantic comedy starring Sanaa Lathan (Brown Sugar, Alien vs. Predator) and Simon Baker (The Ring Two, L.A. Confidential) and directed by Hamri. The film was released on January 29, 2006. Stephanie Allain produced the film through her company, Homegrown Pictures. Something New was Hamri's first film, as she made the transition from music videos to features. Something New was the first major studio release in Hollywood that was produced by, directed by, written by, and starring African American women. The Sisterhood of the Traveling Pants 2 was the second film Hamri directed and was released on August 6, 2008. Her latest directorial project was Just Wright with Queen Latifah and Common, which was released on May 14, 2010.
Along with directing feature film and music videos, Hamri also directs television. Hamri has directed multiple episodes of ABC's Desperate Housewives, Greys Anatomy, and Men in Trees. Mariah Carey's live concert documentary, The Adventures of Mimi, and Prince's The Art of Musicology and Price Live at the Aladdin Las Vegas were directed by Hamri. Her recent commercial credits include spots for Coors Light and AT&T.
Collaborations with Minaj
She has collaborated with Nicki Minaj directing two of her music videos.