Not to be confused with Harajuku Barbie (style) or Barbz.
The Harajuku Barbie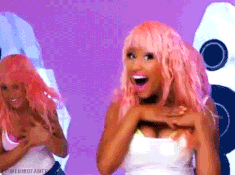 | | |
| --- | --- |
| Personality | Sweet, nice, imaginative, colorful, fun, fun-loving, naïve, innocent, girly |
| | |
| --- | --- |
| Featured in | BedRock, Monster, Bottoms Up, much others... |
The Harajuku Barbie (pronounced HARA-JOO-KOO BAR-BEE), often shortened simply to Barbie or HB, is the name of one of Nicki Minaj's longest lasting and most famous alter egos. Nicki the Harajuku Barbie accentuates the qualities of an imaginative, fun, coquettish girly girl-fashionista, that loves everything pink. This is also the muse who ignites the transformation of Nicki's performances as an R&B/Pop singer and future Rock Star Icon.[1]
Personality
Barbie is famous for speaking softly and acting much more naïvely than any of her other egos although in the beginning of her existence, she was much more confident and cocky. She is the opposite of Roman Zolanski, another of Minaj's alter egos. Barbie's favorite color is pink, akin Minaj, and, after Minaj began wearing wigs of many different colors, she is typically found in blonde or pink wigs. However, Barbie can also act very sexually, as she sings in the song "BedRock".
It is sometimes difficult to determine which songs are Minaj rapping and which ones are Barbie, besides that sometimes Nicki sings "It's Barbie bitch!", but Minaj confirmed that Barbie is in fact rapping on "BedRock"[2] and "Monster".[3] Fans have also speculated that Barbie is on other Pink Friday songs like "I'm the Best", "Moment 4 Life", "Check It Out", "Your Love", "Super Bass" and "Girls Fall Like Dominoes", because of the soft voice she uses in those tracks but Nicki hasn't confirmed any of the appearances.
Appearances
Style
Harajuku Barbie is often interpreted as the fashion behind Nicki Minaj's style.
This fashion sense and lifestyle became so prominent that Minaj created an alter ego specifically for it named The Harajuku Barbie.
Nicki Minaj went out on a viral video to explain the newest form of Harajuku Barbie, where according to her, was a fashion style she got inspired of.
According to the video, she got inspired by the Japanese city Harajuku where the culture of the same name begun, Because people were adding "something" to "Barbie" to describe something, for example: a fashion style, Nicki decided to combine these two words to create the name of "Harajuku Barbie", describing her fashion style.
This prominent style that was adopted by many female fans, which led to them calling themselves Harajuku Barbiez, eventually shortened to simply Barbz, and so Minaj's coinage of the fashion term eventually led to the common name for female members of Team Minaj.
Pictures of The Harajuku Barbie
References