Not to be confused with Harajuku Barbie (style) or Barbz.
The Harajuku Barbie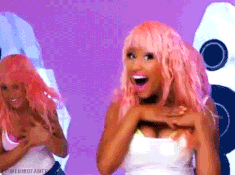 | | |
| --- | --- |
| Personality | Sweet, kind, imaginative, sexual, colorful, fun, naive (at times), girly |
| | |
| --- | --- |
| Featured in | Bed Rock, Monster, Bottoms Up, much others... |
The Harajuku Barbie (pronounced HARA-JOO-KOO BAR-BEE), often shortened simply to Barbie or HB, is the name of one of Nicki Minaj's longest lasting and most famous alter egos. Nicki the Harajuku Barbie accentuates the qualities of an imaginative, fun, coquettish girly girl-fashionista, that loves all things pink. This is also the muse who ignites the transformation of Nicki's performances as an R&B/Pop singer and future Rock Star Icon.[1]
Personality
Barbie is famous for speaking softly and acting much more naively than any of her other egos. She is the opposite of Roman Zolanski, another of Minaj's alter egos. Barbie's favorite color is pink, similar to Minaj, and, after Minaj began wearing wigs of many different colors, she is typically found in blonde or pink wigs. However, Barbie can also act very sexually, as she sings in the song "BedRock".
It is sometimes difficult to determine which songs are Minaj rapping and which ones are Barbie, besides that sometimes Nicki sings "It's Barbie bitch!", but Minaj confirmed that Barbie is in fact rapping on "BedRock"[2] and "Monster".[3] Fans have also speculated that Barbie is on other Pink Friday songs like "I'm the Best", "Moment 4 Life", "Check It Out", "Your Love", "Super Bass" and "Girls Fall Like Dominoes", because of the soft voice she uses in those tracks but Nicki hasn't confirmed any of the appearances.
Appearances
Pictures of The Harajuku Barbie
References
Community content is available under
CC-BY-SA
unless otherwise noted.