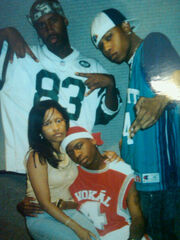 The Hoodstars (stylized as The Hood$tars) were a short-lived, New York-based rap group. The group's members were Loustar, Seven Up, Nicki Minaj and Scaff B (better known as SB or Scaff Beezy).
Background
In the early 2000s, Minaj joined Lou$tar's rap group "The Hood$tars", which also included Seven Up and Safaree Samuels. When the group decided to go their separate ways, Loustar continued to pursue music, Seven Up went to prison at Coxsackie Correctional Facility in New York, and Minaj continued to work day jobs in order to buy studio time, now with Samuels supporting her as a hype man.
Approximately three years after the group's breakup, Minaj released her first solo mixtape, Playtime Is Over.
Songs released