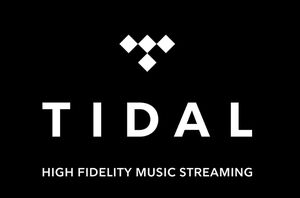 Tidal (stylized as TIDAL) is a subscription-based music, podcast and video streaming service that combines lossless audio and high-definition music videos with exclusive content and special features on music. Tidal was launched in 2014 by Norwegian public company Aspiro.
The service has over 60 million tracks and 240,000 music videos. Tidal claims to pay the highest percentage of royalties to music artists and songwriters within the music streaming market, while offering two levels of digital music streaming service: Tidal Premium (lossy quality) and Tidal HiFi (lossless CD quality – FLAC-based 16-Bit/44.1 kHz – and MQA). It has distribution agreements with all three major labels and many indies.
In March 2015, Aspiro was acquired by Jay-Z's Project Panther Bidco Ltd., which relaunched the service with a mass-marketing campaign. Some music artists changed their social mediaprofile's design to blue and posted the phrase "#TIDALforAll" on Facebook, Twitter and Instagram. A press conference on March 30, 2015, included Jay-Z and 15 other musicians who were co-owners and stakeholders in Tidal. The service was promoted as being the first artist-owned streaming service.
While some observers praised the impressive high fidelity, lossless audio quality, and higher subscription fees which would result in higher royalties to the artists and songwriters, others felt the high subscription fees and exclusive Tidal content from the artists involved could lead to more music piracy. Tidal has claimed to have over 3 million subscribers, although the veracity of those claims as well as their reported streaming numbers have been questioned. Tidal currently operates in 53 countries. On January 23, 2017, Sprint Corporation bought 33% of Tidal for a reported $200 million.
Nicki Minaj is among many other artists who own a share in the company. By agreeing to promote the streaming service and give exclusive content, she will receive 3% of the profit.
Community content is available under
CC-BY-SA
unless otherwise noted.