How does an aspiring female rap artist from Jamaica, Queens get signed to Dirty Money Records, and courted to become the first lady of Lil Wayne's Young Money super group? For Nicki Minaj, the opportunity came thanks to Myspace.com, where the 22-year old rapper caught the eye of one Fendi, the CEO of Dirty Money Records and founder of The Come Up DVD .
Amaya Lewinskyᴺᴹ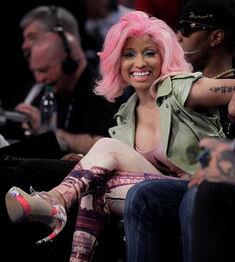 They'll never thank me for opening doors

But they ain't even thank Jesus when he died on the cross 'Cause your spirit is ungrateful

Bitches is so hateful, I remain a staple
| | |
| --- | --- |
| Favorite artists | Nicki Minaj, Ariana Grande, Beyoncé, Katy Perry, Rihanna, Drake, Weezy and many more... |
| | |
| --- | --- |
| Favorite songs | Hard White, Hood Story, 5 Star Chick Remix, Come See About Me, Up Out My Face, Shakin It 4 Daddy, Regret In Your Tears, Down In The DM, Bitch I'm Madonna, Four Door Aventador, Get Like Me, Masquerade, The Creep, Check It Out, Till The World Ends Remix, Gun Shot, Automatic, Highschool and many more... |
At first drawn in by her indisputable lyrical skills, Fendi was sold once he observed Nicki's work ethic and perfectionism: "She is so hard on herself- I could think that it's perfectly right and she keeps working. Her self-criticism makes her a star," the Dirty Money capo
stated. Though Nicki was initially skeptical to enter into any formal
label agreements, Fendi reassured Nicki to just watch what he could do for her career, and the two formed a partnership that has helped set up Nicki for greatness in the game.
Originally pursuing a singing career, in her teenage years Nicki would regularly contribute background vocals for rap artists from her neighborhood. At one of these recording sessions, Nicki asked if it would be alright for her to spit some verses, and her performance blew away her male peers. Realizing her potential as a rapper, Nicki
started taking the craft seriously, and has been grinding hard ever
since. Well aware of the challenge that being a female emcee brings, Nicki feels that "As a woman, people don't take you seriously. You have to go extra hard to get the same amount of respect that a male will get, and you have to constantly prove a point." Taking cues from predecessors such as Eve, whom she admires for her business savvy, Nicki doesn't see any reason why she shouldn't be able to pimp the game as a lady herself. And don't mistake her for just a pretty face or eye candy: Nicki Minaj writes all of her own material, and her
style is certifiably signature: "A lot of people don't believe it, but
I write my own lyrics. And I don't sound like anybody else," she says. Combining a hard swagger with a playful flow and feminine guiles, Nicki Minaj is the whole package. Her appearance on three consecutive Come Up DVD's made that clear to some influential people, including D-Block boss Jadakiss and Lil' Wayne, who called up Fendi to discuss the possibility of a Young Money/Dirty Money Records joint deal. Lil Wayne admired that not only could Nicki rap, but she also had the sex appeal to make her the face of Young Money.
Asked how she feels about the possibility of achieving First Lady status with one of the hottest crews coming out of the
South, Nicki says "I never would have imagined joining a down South crew, but now it makes sense. It's the best of both worlds. I automatically give the East Coast what they want because I'm from New York, but having the King of the South behind me, that opens me up to an entirely new fan base." With her DJ Big Mike hosted mixtape dropping in April, it's just a matter of time before Nicki Minaj becomes rap royalty herself.
How I became a Barbedit | edit source
In 2009, my dad was listening to "Beam Me Up Scotty" on his computer (he also had the "Sucka Free" mixtape) I was listening to the two mixtapes with him. I started to get addicted to Nicki Minaj and I used to listen to more of her music. I used to run around the house saying "I'm the Harajuku Barbie! The Ninja!"
In 2010, I became a major fan, I bought Pink Friday and streamed it on ITunes and Spotify. Same with Pink Friday: Roman Reloaded, Pink Friday: Roman Reloaded - The Re-Up, The Pinkprint, and queen (same with DVDs)
Any encounter with Nicki Minaj will arouse a heightened sense that there is more to her than meets the eye and inspire the desire to experience this modern day "Wonder Woman". Nicki Minaj - the name alone appeals to the decadence within us all. Whoever thinks that you can't "have your cake and eat it to," has obviously not met Nicki. The surname Minaj is the metaphor which underscores Nicki's empowerment to have it all and do it all! This 23 year old native of Jamaica, New York (Queens, Southside) is also a trained and accomplished writer, singer, actress and hip hop artist. Her "Wonder Woman" characteristics are embodied in the three facets of Nicki Minaj. The three elements that comprise this modern day "Wonder Woman" are Nicki the Ninja, Nicki the Harajuku Barbie and Nicki the Boss. Nicki the Ninja is a hip hop lyrical assassin, which is sometimes naughty. Nicki the Harajuku Barbie accentuates the qualities of an imaginative, fun, coquettish girly girl- fashionista...that loves all things pink. This is also the muse who ignites the transformation of Nicki's performances as an R &B/Pop singer and future Rock Star Icon. Nicki the Boss- the ingenious austere business woman that always thinks outside of the box. Most importantly, this boss lady is never afraid to assert herself.
Career
Nicki honed her innate ability and star potential at the renowned school of performing arts which was denoted in the movie and television series FAME. It was not long before she began to attract the attention of local producers and hip hop artist in the rap genre. Reluctant at first to cast herself as a rapper, her apprehension was predicated on the thought that the industry would attempt to limit her to one thing; when she knew that she was so much more. Decidedly, Nicki accepted the challenge and embarked on the journey of a female emcee in a hip hop world dominated by males.
It was not long before her lyrical skills were sought after by the likes of Lil' Wayne. Nicki was determined not to befall the ill-fate of so many other talented female rappers. Instead she opted to qualify her lyrical skills through the ranks of the underground mix tape circuit. Success was inevitably achieved with her critically acclaimed performance credit on the DVD entitled "The Come Up" and mixtapes like Playtime is Over and the infamous Sucka Free. Now in demand Nicki's role expands as a featured artist and female persona of Lil Wayne's record label Young Money Entertainment. In addition, she has a worked with celebrated recording artists Bobby Valentino and Jadakiss. Nicki has also collaborated with Atlantic recording artist Gucci Mane. Both Gucci and Nicki are managed by Debra Antney of Mizay Entertainment.
The evolution of Nicki Minaj continues as she exploits her talents as a singer and explores her passion as a writer. Nicki is currently in the studio recording her first album which will feature some R&B and Pop songs. Of equal importance, she is also engaged in writing new materials for herself and other artists. Nicki is also considering several acting roles which includes playing the lead character of Erica Payne in the film adaptation of the
six time Essence's best bestselling novel "Charge it to the Game" by author Michele A. Fletcher. Nicki is the current winner of the Underground Music Awards (UMA) female artist of the year. She is also currently nominated for the Southern Entertainment Awards (SEA) Female Mixtape Artist of the Year.