The Victoria's Secret Fashion Show is an annual fashion show sponsored by Victoria's Secret, a brand of lingerie and sleepwear. Victoria's Secret uses the show to promote and market its goods in high-profile settings. The show features some of the world's leading fashion models.
The show is a lavish event with elaborate costumed lingerie, varying music by leading entertainers, and set design according to the different themes running within the show. The show attracts hundreds of celebrities and entertainers, with special performers and acts every year. Each year, twenty to forty of the world's top fashion models are selected to perform in the fashion show.[1]
Nicki Minaj's performance (2011)
On September 6, 2011 it was revealed the air date of the 2011 Victoria's Secret Fashion Show. The annual show was madden in New York on November 10 and air on CBS on Tuesday, November 29 at 10/9C.[2]
The shows featured superstar performers including Kanye West, Jay-Z, Nicki Minaj and Maroon 5. West performed his solo hit "Stronger," and then was joined by Jay-Z, for a rousing version of their current smash "N---as in Paris". Minaj strutted down the catwalk in a brightly colored cosmic-themed number, bounding her way through "Super Bass". And Maroon 5's Adam Levine walked hand-in-hand with his girlfriend, Victoria's Secret model Anne Vyalitsyna, while singing his band's megahit "Moves Like Jagger."[3]
Kenneth Partridge of TheBoomBox.com commented about the performance: "It takes some mighty captivating musicians to overshadow leggy models wearing next to nothing, but Kanye West, Jay-Z and Nicki Minaj fared as well as anyone might at this year's Victoria's Secret fashion show." He also commented positively about Nicki's performance saying: "As Nicki sang and rapped through her 'Pink Friday' favorite 'Super Bass,' Vicky's gals rocked neon get-ups similar to hers. No one dared match her pink curly-cue hairdo, however, proving that angels are no match for a Harajuku Barbie."[4]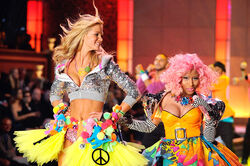 Nicki Minaj closed out the Victoria's Secret Fashion Show. The pink-haired Barbie pumped up the volume with her hit "Super Bass", as she strut down the runway with supermodels during their final catwalk.[5]
References