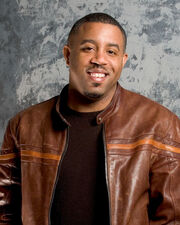 Wayne Hector is an English songwriter. Hector has had over 30 number ones around the globe, as well as numerous movie soundtrack credits, making him one of the UK's most successful songwriters.
Wayne Hector has written for such high profile acts as Britney Spears, One Direction, Pussycat Dolls, Susan Boyle, James Morrison, Toše Proeski, Westlife, Carrie Underwood, Nicki Minaj, Rascal Flatts, Il Divo, Cheryl Cole, The Wanted, JLS, Enrique Iglesias, Travis McCoy, Def Leppard and many, many more. He is signed to Warner/Chappell Music.
Wayne has played a large part in one of the UK's biggest boy bands' phenomenal rise to fame. He wrote almost 30 of Westlife's hits contributing to 7 Number 1s, including World Of Our Own and Flying Without Wings (which was also Number 1 in the US for Ruben Studdard (American Idol), and the first ever official Number 1 download) and served as executive producer on their first two Albums.
His 30 Number One hits includes Westlife's "What Makes a Man", "Swear It Again" and "Flying Without Wings", the latter won song of the year for 1999 and was the first number one download. Wayne was executive producer on Westlife's debut album.
He also won a 2010 Brit Award in the Best Single Category for JLS 'Beat Again" as well as a nomination in 2011, again in the Best Single Category for The Wanted 'All Time Low'. He has also won Multiple ASCAP and BMI awards as well as an Ivor Novello Award nomination for Biggest Selling Single for "All This Time" by Michelle McManus (UK Pop Idol).
Collaborations with Minaj
Wayne Hector has written the following songs: