Young Money Entertainment is an American record label founded by rapper Lil Wayne. The president of Young Money is Lil Wayne's lifelong friend Mack Maine. The label is an imprint of Cash Money Records and is distributed by Universal Republic Records.
Current artists include Lil Wayne, Drake, T-Pain, Nicki Minaj, Tyga, Mack Maine, Jae Millz, Cory Gunz, Lil Twist, Gudda Gudda, Lil Chuckee, Short Dawg, T-Streets, Shanell (aka SnL) and Christina Milian.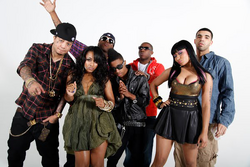 The label has released seven US #1 albums: Tha Carter III, Tha Carter IV, and I Am Not a Human Being by Lil Wayne, Thank Me Later and Take Care by Drake, Pink Friday and Pink Friday: Roman Reloaded by Nicki Minaj, and one UK #1 album: Pink Friday: Roman Reloaded also by Nicki Minaj.